Optimizely Gartner Magic Quadrant
For the fourth consecutive year, Gartner has recognised Optimizely as a market leading Digital Experience Platform and Content Marketing Platform. Surpassing Sitecore and Drupal with considerable distance whilst closing in on Adobe.

Optimizely (formerly Episerver) was first recognised in 2015 for its digital innovation to help unlock digital potential in 'midsize-to-large enterprises' with sophisticated experimental capabilities.. The Optimizely DXP has everything your organisation's digital teams need to achieve an ROI of up to 370% on the original investment – quicker than any other platform.
OPTIMIZELY GARTNER MAGIC QUADRANT'S DXP PRAISES
The strengths mentioned by Gartner to make the platform stand out are:
Broad set of digital experience capabilities

Ideal for customers looking to grow with the platform or to harness the whole suite from day one

Scalability

Optimizely has the capability to kickstart your company's digital acceleration and growth with success

Price point

Scalable – Your organisation can make the price point fit you. With subscription-based payments, it is easy to review a product usage and add or remove features to contribute to a positive return.
Transparent – Optimizely prides itself on helping its customers return a positive ROI. A contributor to that is making sure it is clear and understood where each penny is being spent with the technology and what that allows your organisation to harness in return.

Regular updates

Optimizely has regular updates to keep itself ahead of its competitors. Now supporting both headless and traditional CMS, digital teams are able to work with the technology style of their choice.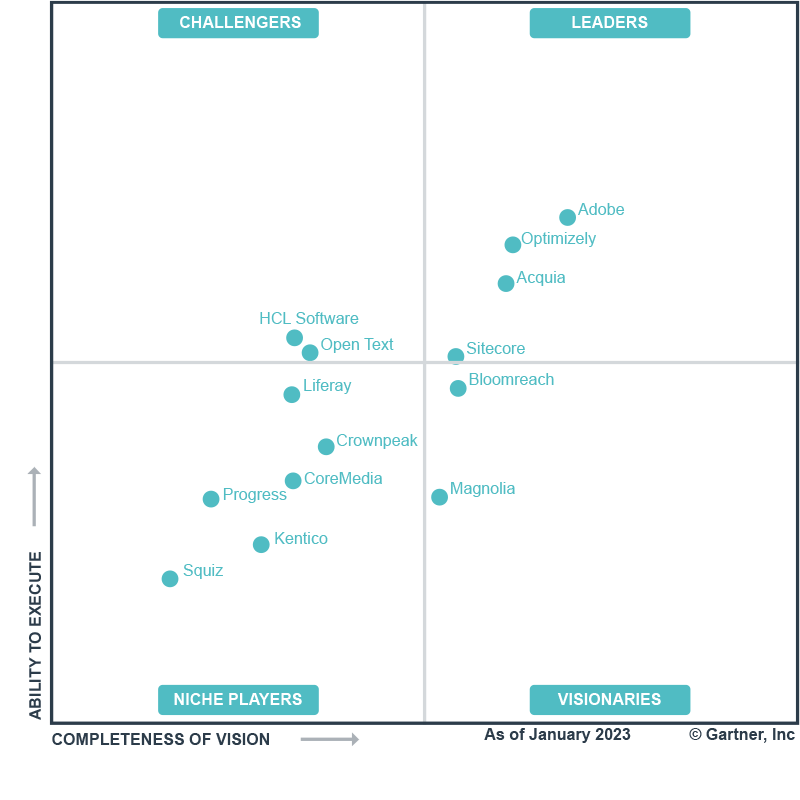 WHAT MAKES OPTIMIZELY'S DXP SO UNIQUE?
PERSONALISATION
91% of site users are more likely to convert with a company when recommended with content and information relevant to their user journeys and interests. As personalisation has so much potential value to an organisation, making sure your organisation provides each customer with a unique experience is becoming vital to achieving success.
Ignoring personalisation can reduce the likeness of conversions and reconversions on up to 63% of consumers. Thousands of organisations are using ageing and legacy platforms. The solutions are either not capable of delivering personalisation or have arisen hidden costs to achieve unique experiences for all users.
OPTIMIZELY'S CUSTOMER DATA PLATFORM
Optimizely's Customer Data Platform allows organisations to collect and record data. Stored in a highly secure platform. Companies can gain a deeper understanding of their customers by adding to a built profile on every visitor.
These recordings can then be used by Optimizely's AI tools to recommend pages, products or articles that are relevant to their interest and journey. Alongside being readable to AI, the relevant digital team is able to view the findings and construct future marketing plans with data-driven decisions. This is all done with first-party cookies that comply with GDPR rules and regulations.
EXPERIMENTATION PRODUCTS
Optimizely has been famous for experimentation marketing since before Episerver acquired the brand in 2019 to expand their CMS solution. Over 50% of marketers use a form of experimentation marketing in their strategy. With the market being so saturated, selecting a market-leading experimentation platform can be the difference between effectively using experimentation and not.
Optimizely experiments is an effective software to be used in conjunction with the Customer Data Platform. 85% of companies actively using experimentation favour A/B Testing. The simple but incredibly effective form of marketing allows users to trial two different variations on a live site to a controlled audience.
With the correct technology and marketing plan, organisations can increase revenue up over 250%. With a rigorous experimentation strategy that includes Multivariate testing, organisations are able to improve conversion rate optimisation up to 300%.
OPTIMIZELY GARTNER MAGIC QUADRANT – CONTENT PLATFORM
Gartner also conducts similar research into content marketing platforms. For the sixth successive year Optimizely's Content Marketing Platform has also been named as a leader. The recent acquisition of 'Welcome' has given Optimizely the opportunity to bolster the CMP's capabilities and increase the content marketing quality standard for thousands of enterprise-level organisations.
As 81% of marketers view content marketing as vital to a successful digital strategy, making sure your business has the technology to produce the best content in its sector is of paramount importance to bet competitors to customers. Content marketing generates over 3x as many leads then outbound marketing whilst coming in at an average of price that is 62% lower.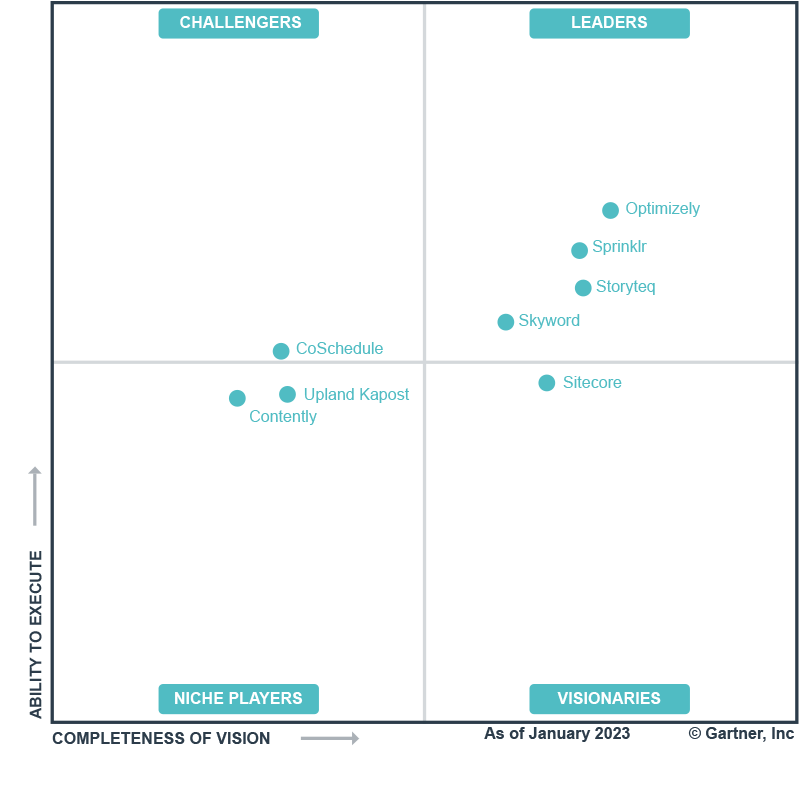 OPTIMIZELY GARTNER MAGIC QUADRANT'S CMP COMPLIMENTS
AI CONTENT CREATION
CMP customers are able to kickstart content creation with help from Artificial Intelligence. Cutting down the long-winded and sometimes most difficult job of where to start when curating content.
As a user of the CMP's AI, content teams are able to train the software with simple positive and negative feedback to train and program the software to be completely unique to brand guidelines, sector and more.
QUICK TO MARKET PERSONALISATION AND MODULAR CONTENT
With the CMP not being limited to Optimizely CMS customers alone. Organisations are able to take control of their modular content and structured asset creation. Making the users enjoy their time on site with creative and pleasing to the eye pages will increase the value of every second spent on relevant pages.
Reducing content bottlenecks, savvy content teams can beat competitors by learning and understanding what its target audience are looking for online. 83% of marketers turn to quality content over the volume they are producing when planning a content strategy. With powerful AI woven through the platform, digital team's jobs not only get easier and quicker but much more efficiently.
FLEXIBILITY IN UX AND CONTENT GOVERNANCE
The whole Optimizely suite prides itself on being scalable and accessible to different departments. Many content teams spread the content creation responsibility to different departments that know more on specialised areas.
For this method to work seamlessly, it is important to control permissions levels. Optimizely CMP allows organisations to give different levels of access around the platform. Preventing any mistakes such as accidently publishing before optimisation.
LEARN MORE ABOUT THE OPTIMIZELY SUITE
Above are just examples of the products from the market-leading digital suite. The solution gives customers access to an arsenal of tools that can deliver the most ambitious digital strategy. The products Optimizely has includes but are not limited to:
Optimizely Customer Data Platform
The best way to learn more about Optimizely is to reach out to an expert. Speaking to an Optimizely Partner will allow for a clear understanding of your company's future goals and ambitions. Showcasing how the Optimizely solution can help you achieve these goals whilst bringing in a positive return on your investment.
WHY WORK WITH US
At Ultimedia we have over 25 years of digital experience, with 15 of them on the Optimizely / Episerver platform. Having delivered 100+ successful projects in 32 different languages over the last five years alone. If you are interested in learning more about why Optimizely is regarded as one of the best platforms in the market at the moment. Contact us, we would be happy to help.