When looking for a new digital experience platform (DXP) it can be hard to understand what actually differentiates the market leaders. At a glance they seem very similar as both Optimizely and Sitecore are secure platforms developed in .NET web framework and use a SQL database server. Explore the finer detail and discover how the different features offered by each system determines how well suited the platform is for your organisation.
Optimizely vs Sitecore: An Overview
Founded in 1994, both Optimizely (formally known as Episerver) and Sitecore have over 20 years of digital development built in, making them two of the world's most popular DXPs. In 2020 Episerver, a CMS leader, acquired the world's leading experimentation platform, Optimizely. 2021 saw the rebrand of the new super DXP platform to Optimizely. Since then, Optimizely have continued to make a storm with the latest Gartner DXP Magic Quadrant report showing Optimizely's consistent evolution, whilst Sitecore falls further behind each year. However, this alone is not enough to judge which DXP would be right for your organisation and it is recommended to take a closer look at some more components to get a more holistic understanding of each platform before making a decision.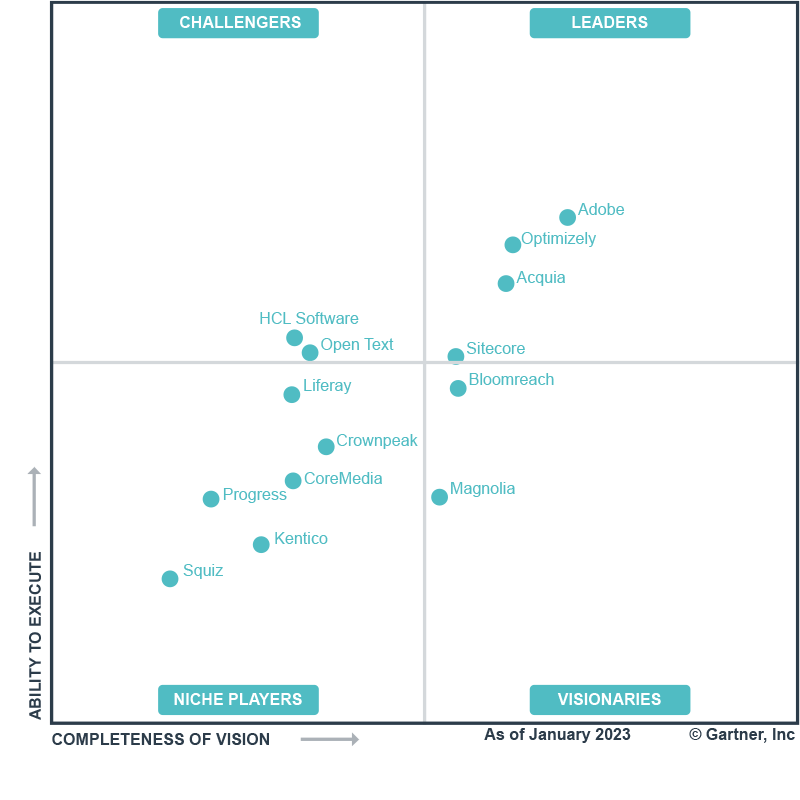 Optimizely vs Sitecore: Useability and Experimentation
Both Optimizely and Sitecore have user friendly interfaces and offer a fully comprehensive product suite. Organisations have the opportunity to enhance their user experience and drive performance using cutting edge testing facilities, including A/B testing and multivariate testing (MVT). Although both product suites offer these capabilities, Optimizely Experimentation is better-known for its sophisticated testing features and can't be matched by Sitecore currently. Optimizely historically has offered the best experimentation facilities on the market. For digitally ambitious organisations that prioritise the value of data-informed marketing decisions and delivering exceptional content marketing, Optimizely is a recommended choice.
However if your organisation is already invested in Sitecore (or another platform), the Optimizely Experimentation product can be purchased and used in conjunction with Sitecore or any other third party API through Optimizely marketplace. Organisations can simply choose from one click installations or opt for a bespoke coded installation of the software.
Optimizely vs Sitecore: Editor Experience
Busy marketing and development teams benefit from tools that streamline their efforts and make day-to-day tasks easier and more efficient. Whilst Optimizely and Sitecore both have their roots in content management and offer similar capabilities, each platform does operate slightly differently.
Sitecore offers a sophisticated editor experience with a strong focus on content management. It provides a robust set of tools for creating and organising complex content structures for organisations with specific content needs. For those organisations already using the platform, it may be advantageous to stay with it as their development team would be familiar with the software.
However, when starting from scratch, the Optimizely product suite is more user friendly for both front and backend developers. Marketing teams are able to create and test content in the same interface utilising the edit mode leaving web pages ready for publication without developers. Ultimately, this means organisations can be less reliant on developers to run their website and can focus on creating engaging content.
When it comes to collaborative working, Sitecore lags behind too, unable to match the volume of simultaneous users working on a solution. Although Sitecore offers similar editing capabilities, they come at a much higher cost and users have reported the Sitecore Experience Editor proves to be difficult at times, leading to a much lower ROI. Ultimately, when it comes to the editing features, Optimizely offers enterprises the opportunity to do more, with fewer features and at a much lower cost than Sitecore.
Optimizely vs Sitecore: Personalisation
Personalisation is of immense importance in this digital-first ecosystem. 33% of consumers say they are not receiving a truly personalised experience online. When comparing software solutions, Sitecore offers a broad range of personalisation tools within a unified platform catering to distinct digital needs. In 2021 Sitecore purchased both Boxever and Four51 meaning the software now offers sophisticated personalisation tools within their platform.
Optimizely also makes it easy for ambitious organisations to achieve the level of personalisation which customers have the appetite for. With Optimizely's accessible user interface marketers can create highly personalised content at page or component level to target specific segments and individuals. It is easy to create personalised experiences quickly, without the need for extensive development resources. With Sitecore, features such as personalisation often come at a hidden cost, whereas Optimizely allows you to tailor your product suite to achieve personalisation for less.
Optimizely vs Sitecore: Speed & Scalability
It is vital organisations have the opportunity for scalability. Sitecore's platform is sold as an all in one platform, so you don't have to build on it as your business scales up, everything is already there in one place. This can also be seen as a downfall, as Sitecore Experience Manager (DXP) has many features within it which some users do not necessarily want. While Sitecore is robust, the implementation can be more time consuming. Achieving scalability with Sitecore requires substantial investment.
Optimizely's architecture is designed for rapid implementation and deployment allowing for businesses to swiftly adapt their digital experience and the cloud based infrastructure allows for scalability. With Optimizely digitally mature organisations can easily keep up to date and explore new features. Optimizely makes it easy by providing an upgrade assistant tool which updates the platform to the latest version. The update deployment path is quicker and safer whilst also being cheaper and easier to build and maintain in the future.
Optimizely vs Sitecore: Pricing
Both platforms offer a very different pricing strategy. Sitecore follows a more comprehensive pricing strategy because of their holistic digital experience platform. Sitecore's pricing involves licensing fees based on the number or users and the complexity of implementation. Ongoing costs can also include maintenance, support and potential additional fees for specific integrations. Sitecore pricing is overcomplicated and confusing, in the 2023 DXP Magic Quadrant report, Gartner outlined this as a weakness,
'Sitecore's transition entails pricing and packaging changes that are impacting both current and prospective customers. While current customers struggle with the burden of a substantial increase in investment, prospects face a complicated feature/function and cost-benefit analysis.'.
In contrast, Optimizely adopts a flexible pricing approach, offering scalable options suited to the specific needs of businesses, there are different pricing tiers based on usage features and the levels of support required. Organisations are able to tailor the product suite to their unique business needs. This pricing flexibility ultimately ensures scalability, enabling organisations to start at a level that suits them and then expand as they grow. It provides a clear view of the investment for organisations whilst minimising unexpected costs. Unlike Sitecore, Optimizely pricing was praised by Gartner,
'Optimizely's pricing and packaging are simple, scalable, modular and transparent compared to competing offerings. Consistent use of metrics for pricing and removing limits on channels and users are well-regarded by its customers and prospects.'.
For organisations that value transparency and the opportunity to go to market quickly with their projects without pricing being a blocker, Optimizely trumps Sitecore.
Optimizely vs Sitecore: Innovation
When it comes to innovation Sitecore's tactic is leveraging AI to enhance features such as personalisation. Although at a glance it may seem like Sitecore would be Innovation leaders, Optimizely AI progress demonstrates innovative ways the platform continues to elevate experiences with the latest technology. As Gartner Magic Quadrant shows Optimizely constantly innovating and growing whilst Sitecore falls behind.
The overall architecture of Sitecore can hinder user experience making it hard for developers to keep up with innovation. Both platforms take a lot of studying for developers to get to grips with, but with Sitecore the learning curve tends to be longer and more tedious for both developers and content creators. This ultimately suggests it is easier to keep up to date and manage innovation when using Optimizely over Sitecore.
Which is best for your organisation, Optimizely or Sitecore?
When making the DXP investment, if your organisation has access to copious developers
and requires an extensive software solution with everything from content management to Storefronts and Order Management systems, then Sitecore might be the appropriate solution.
Optimizely can alternatively offer organisations an easy to manage digital software solution with some of the leading experimentation technology in the industry. Furthermore, Optimizely's product offering also comes at a reasonable cost, allowing organisations to choose products and build a software solution to fit their organisational needs. In addition to Gartner rating Optimizely as a leading DXP, they have also rated Optimizely's content marketing platform (previously Optimizely Welcome) as the industry leader. If you are considering using the UK's leading CMS or would like to learn more about how it could benefit your organisation, contact us today, we'd love to help.
At Ultimedia we have over 25 years of experience and a team of industry experts who are ready to create a bespoke Optimizely platform for your organisation and ensure you maximise your investment. Level up your digital presence with a user friendly cost effective DXP and book a demo today to find out how wecan help your organisation reach digital maturity.