Siteimprove Episerver Explained
Take your Episerver Content solution to the next level with leading content performance software, Siteimprove Episerver.
What is Siteimprove Episerver?
Siteimprove Episerver is the powerful integration of digital experience technology, Episerver CMS (now Optimizely) and content performance software, Siteimprove. Siteimprove Episerver is designed for ambitious brands that prioritise their customer experience through content marketing. The integration allows for users to see direct errors and recommendations in written content to assist in optimisation for search engines.
55% of marketers in 2021 stated that improving the quality of their content marketing increases the outcome of their strategy. The Siteimprove Episerver API integration gives users the option to scan and detect all potential mistakes that could decrease the level of optimisation and user experience.
Different packages are available to prevent the inclusion of any unwanted features for a reduced cost. For further information of different packages available contact us.
The key benefits of the Siteimprove Episerver Plugin
Produce search engine optimised content
Prevent any spelling mistakes
Find broken links
Scan live and unpublished pages
See the knock-on effect of unpublishing a page
Optimise image size
Direct location of the error for the user
Siteimprove Episerver and SEO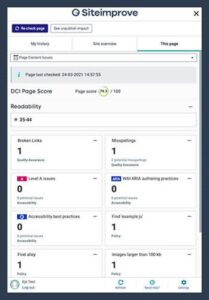 68%of user experiences start with a search engine, signalling successful search marketing as a highly valuable strategy for organisations to invest in for reaching new audiences. The Siteimprove plugin aids marketing teams in producing quality content to drive ROI and is used to scan content.
Scanning this can be done to both published and unpublished content. During the scan the user is given live feedback on errors and detections as the software makes its way through your content.
Scanning unpublished content allows for confidence in optimisation before publishing. Siteimprove also conducts a further scan after publication to check for any fine margin misses and errors.
Just like the Episerver DXC suite, the content scanner can be tailored to your organisation's requirements by adding jargon and unique spellings to its dictionary to prevent picking them up in future. Correcting and improving live content not only prevents potential embarrassment in existing material, but educates the team on weaknesses in their content and opportunities for improvement.
Siteimprove Episerver empowers marketing teams and brings confidence in every decision allowing for users to scan live content and see the impact unpublishing can have. Including potential broken links which will negatively impact the SEO ranking of other pages.
Why choose Optimizely? 
Episerver, now rebranded as Optimizely, is a world class digital experience platform made to unlock enterprise-level organisation's digital potential. The Episerver Content Management System is included in the Episerver products catalogue and can be easily integrated with the verified Siteimprove Plugin. Built for accessibility and matching high ambitions in enterprise-level organisations. Unlike alternative platforms available, Episerver has incredibly flexible API options and has an attractive price point for a premium technology, positioned as a leader by Gartner Magic Quadrant. Chosen by over 9000 global brands, Optimizely provides its customers with an elite tool and feature portfolio to help them achieve their digital goals and overtake their competitors.
Getting started with Siteimprove Episerver
Working with an accredited Optimizely Partner allows for full confidence in your organisation's solution. We are Ultimedia, part of Remarkable Group, a team of global specialists in website design, development and digital marketing. Having delivered sophisticated solutions for our clients internationally since 1995, we have extensive experience in ensuring our clients get the most out of their digital investment.We work exclusively with the Optimizely platform and are proud to be the first partner in the UK and Middle East, giving our clients the benefit of exclusive access to the latest Optimizely feature releases. To learn more about a Siteimprove Episerver integration for your organisation or for an Optimizely demo  contact us – we'd be happy to help.