Episerver DXC or Digital Experience Cloud is a combination of digital product offerings which can be used in many combinations for different business challenges. The whole map of the digital offerings in Episerver DXC (now Optimizely) briefly consists of the following product offerings:
Content Management System (Episerver CMS)
Episerver Commerce (B2C and B2B)
Product Information Management (PIM)
Product and Content recommendations
Search and navigation
Visitor Intelligence
Personalisation
Optimizely Campaign
Optimizely Intelligence Cloud
Episerver DXC: Content Management System
Episerver DXC includes a CMS that is powerful, easy to use and has everything needed for enterprise-level organisation. It provides marketers with a suite of tools for:
Creating page and content blocks which can be placed on pages
Adding images
Linking Content
Content collaboration
Managing content versions
Content approvals and workflow
Working with multilingual content
Managing permissions over the website
Organisations can benefit from an editorial interface that can operate in an, 'On page' editing view or in an, 'All properties' editing view, giving users flexibility to work however suits them.
Assets can be media files, images, documents, blocks or products from Episerver Commerce Cloud. The CMS allows you to work directly from the on page view or from an assets panel which will show a hierarchy of folders, media files, blocks and commerce catalogs.
Different types of properties (fields) can occur on a page and these have a TinyMCE editorial environment. The editorial environment is collaborative and the publishing process can be controlled through a workflow and publishing can be instant or scheduled.
B2C Commerce
This is a complete B2C commerce solution which is designed to make commerce marketers' lives easier. The Episever eCommerce solution has a broad range of functionalities that give marketing teams all they need to create high impact customer experiences on a technology that seamlessly integrates with their other systems. Episerver DXC has been made with both internal and external users in mind, which is evident in how easy the platform is to use. Helping busy and ambitious teams work together more efficiently and effectively.
Some of the functionalities include:
Editable Shopping flow
A series of integrations through its own extensive API
Catalogs with pricing, markets, inventories, warehouses and assets (images, documents)
Order management facilities to manage shopping carts, purchase orders, returns
Customer management facilities for contacts and organisations
Market definitions and management
Marketing facilities for management of campaigns and discounts
Reporting facilities
Administration facilities for markets, warehouses, catalogs, taxes, shipping, payments, dictionaries, and managing scheduled jobs.
Content facilities, over and above those required for Optimizely Content Cloud, to manage languages, personalization, commerce gadgets and access rights.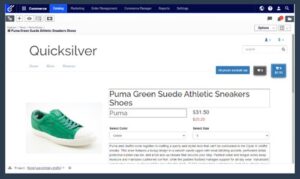 B2B Commerce
Similar to the B2C offering, the Optimizely B2B Commerce solution under Episerver DXC is designed to deliver industry-leading capabilities at scale for enterprise-level organisations. Being a SaaS Cloud solution, one of its strengths is the speed of implementation.
This powerful module empowers brands to get organised and be flexible with system integrations. Organisations that choose Episerver DXC benefit from having a solution that is tailored to their business needs, with an arsenal of tools all in one place. Some of the core capabilities include:
Products: brands, product lines, categories, recommendations, inventory, pricing
Users and Customers: including roles and permissions
Orders: order management, cart  and checkout, RFQ, lists, budgets, order approvals, payments, taxes, returns
Fully integrated content management facilities on the latest technologies
Marketing:customer segments, promotions, SEO, multilingual, multicurrency, multisite
Mobile App with branding options
B2B Commerce Analytics with dashboards and customers
B2B Commerce SDK covering all aspect of operation of the system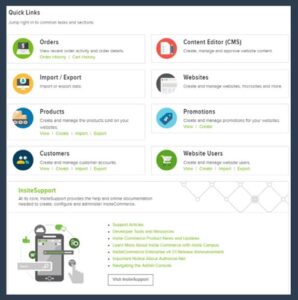 Product Information Management (PIM)
Optimizely PIM is a fully configurable and organisable system for storing information relating to products, which can be used by the eCommerce systems or equally by ERP systems.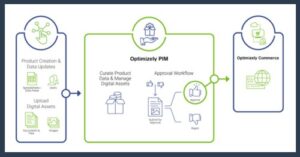 There is a recommended path for implementing a PIM which consists of:
Design considerations
Roles and Permissions
Configuration of Property Groups and Properties
Creating Product Templates
Defining Category Trees and Categories
Settings configuration
Importing Products, importing digital assets and assigning digital assets
Maintaining Product Information
Collections and Workspaces
Product Variants
Dashboard and Reports
Publishing updates to B2B Commerce
Product Recommendations
Product Recommendations is a great feature for customer-centric brands and can be used within the eCommerce system for personalisation, boosting engagement and conversions.
Functionality includes:
Campaign management for product recommendations
Activation and preview of product recommendations
Campaign approval workflow
Product Recommendations report
Content Recommendations
Content Recommendations can be used in conjunction with experimentation tools such as Optimizely A/B testing and MVT testing and experimentation. It can also be used in conjunction with Visitor Groups to recommend content.
This feature offers marketers a variety of monitoring tools, including, content, insight and engagement dashboard. Users also benefit from filters and Natural Language Processing (NLP) capabilities to help them create optimum experiences.
Search and Navigation
Optimizely Search and Navigation helps organisations to increase traffic and conversion rates on their website. Marketers can customise the user experience to ensure visitors can find what they're looking for quickly. This tool includes:
Optimise search
Analysing search statistics
Manually optimizing Search
Configuring search
Using Personalised Search
Visitor Intelligence
Visitor Intelligence is an important part of Episerver DXC, it incorporates a user interface for viewing and filtering profiles and viewing their behaviour. Marketings can quickly create segments from the profiles that can then be used in marketing campaigns.
Naturally, having a full view of how your audience is behaving is paramount, so there's also a dashboard for Visitor Intelligence which can be used to drill down into more specific areas.
Personalisation
80% of consumers are more likely to make a purchase from a business that offers personalised experiences. It's no surprise that 88% of marketers say their priority with personalisation is to improve customer experience. Personalisation in Episerver DXC lets you individualise content in a variety of contexts to achieve this. These are:
Content Recommendations displayed online to visitors
Product Recommendations displayed online to visitors
Email Content Recommendations sent in a campaign
Email Product Recommendations sent in a campaign
Triggered Messages – under a variety of conditions
Promoted Content – as a result of promoting a discount, product or service
Optimizely Campaign
Organisations with a well implemented omnichannel strategy see a 9.5% Year-on-Year increase in annual revenue, compared to the 3.4% uplift that brands that overlook this strategy experience. Optimizely Campaign is an multichannel marketing software solution which creates, sends and evaluates campaigns.
It can help marketers to successfully manage:
Multichannel campaigns
Smart campaigns e.g., events or one-offs
Marketing automation can be used to develop multi-step campaigns
Episerver DXC's Analytics tools can be used to measure the success of these campaigns.
Optimizely Intelligence Cloud
Optimizely Intelligence Cloud is a powerful layer in Episerver DXC that gives it the competitive edge in the market. This feature captures customer data and behaviours across all platforms. It uses that intelligence to make real-time AI-powered personalisations and optimisations on the website.
It consists of the three products:
Personalised Content Recommendations
Personalised Product Recommendations
Optimizely Content Intelligence audits and insights from the dashboard
Intelligence cloud underpins a lot of the technology's capabilities and is a key drive to helping brands to elevate their digital strategy.
Get an Episerver DXC demo
Episerver is a globally recognised leader in the experience space. It has phenomenal power to transform organisations and take their digital strategy to the next level – and then some. To see it in action and understand how it can align to your organisation's specific needs, book a demo with us.
We're Ultimedia, the UK's first Episerver Partner. We're a team of accredited developers, strategists and digital experts who have been helping brands to achieve their digital goals since 1995. To find out more about Episerver Digital Experience Platform and the benefits of working with a leading Episerver Solution Partner, contact us – we'd love to help.