Episerver Commerce Cloud – A Guide for marketers
Get sophisticated B2C Commerce and B2B Commerce solutions, hosted and managed in the Cloud, from the same supplier. Learn more about Episerver Commerce Cloud (now Optimizely).
What is Episerver Commerce Cloud?
Episerver Commerce Cloud is a platform for B2C and B2B organisations to create, manage and optimise seamless shopping experiences. It's a collection of all the smart tools you need, in one place to help build campaigns, align multiple systems, sell faster all while ensuring your customers are getting the optimum experience through personalisation tools. It's a useful piece of kit to have!
Content, content, content
It doesn't matter whether you're in the world of B2B or B2C, as far as Episerver Commerce Cloud is concerned content is going to be an important part of any marketing strategy and this platform sure packs a punch. Firsty, Episerver has its history deep rooted in the CMS space, so marketers can be confident that the editing environment is nothing less than world class content and product management.
All of the distinct parts of the platform are seamlessly stitched together for digital marketers. This enables all of the editing facilities to work when you are working with your products and campaigns. Simple.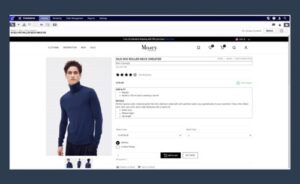 The editing facilities enable you to to tweak almost anything you'd need to as a marketer: blocks, pages, media, catalogues etc. The attractive quality of it is its flexibility, it's been created to help your business, not work against you in your day-to-day.
Content Recommendations
Another integral part of the Episerver Commerce Cloud solution is the Product Recommendations engine which easily lets you perform cross-selling and up-selling functions or equally showcase a variety of products you wish to appear for different purposes, e.g., largest margins, most popular, or associated products. This engine uses visitor behaviours and browsing data together with an AI engine to show relevant products. This brings an automation of personalisation and individualisation into play between different people browsing products.
Boost engagement with Episerver Commerce Cloud
Learning how to best engage your audience and importantly increase conversions can be a laborious task. Episerver Commerce Cloud takes away any headaches and gives marketers a range of tools to experiment with A/B testing on blocks, images, content, calls-to-action and more. In addition to this testing can be carried out across pages and optimised content can be automated – ensuring your audience are shown content that will resonate with them most and drive the best results for your business.
Marketing automation is available for busy marketers to track visitor behaviour and collect useful profile data that can be used to create better experiences. Being able to track and monitor performance is an essential part of marketing, so of course Episerver Commerce Cloud comes with live monitoring and Google Analytics dashboards to give teams the valuable insights they need to make informed decisions.
Campaigns and offers
One of the aspects that makes Episerver Commerce Cloud an attractive technology choice for organisations is its flexibility and ability to integrate with multiple systems. In a B2C setting, the marketing module enables a variety of functions to be managed, including:
Campaigns which can have discounts associated for a particular campaign
Discounts, which can apply to orders, items, or shipping costs
Campaigns, Promotions and customer segments can also be managed within this module
Discounts can operate on a variety of levels e.g. shipping, orders and products but other more complex criteria can be used. Marketers also have the choice to activate discounts by virtue of the shopper purchasing something, or by a variety of other criteria. Broad-based discounts can also be established with exclusions for certain criteria.
Following the acquisition of Optimizely, a Campaign feature was introduced, tailored more for B2B organisations that involves configuring clients, adapting recipient lists, and an associated Optimizely feature set. The menu bar associated with this dashboard gives marketers access to:
Campaigns
Recipients & Responses
Blocklists
Analytics
Admin and Search facilities
Visitor interactions can be seen on the dashboard: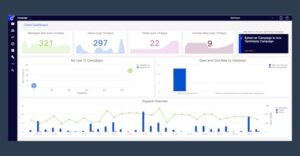 Campaigns can cover a variety of interactions, mailouts, offers, newsletters, opt-ins and are covered by ISO 27001 certification. Different campaigns can be managed across a variety of channels, these include:
Smart Campaigns can be managed, which is a marketing tool for one-shot campaigns.
Omnichannel campaigns can also be managed with SMS, Print, mobile push and web push facets.
Typical of the experience platform, A/B experimentation facilities are available for campaigns to determine the optimum messaging and layout.
Intelligent Personalisation
Personalised experiences are a consumer expectation sector wide. Episerver Commerce Cloud allows you to personalise messaging and uses at an individual level across:
Content Recommendations
Visitor Groups
Personalisation Product Suite
The flexibility of this module allows marketers to choose whether they apply personalisation to an individual visitor, or a segment of visitors. Personalisation in Episerver uses intelligent algorithms and can be manually configured for administrators, editors, marketers, or merchandisers.
Using visitor groups brands can target content, recommendations and more to a variety of segments with many different components such as geography, behaviour etc.
The personalisation suite is divided into:
Content Recommendations
Product Recommendations
Email Content Recommendations
Email Product Recommendations
Triggered messages
Optimizely Visitor Intelligence
Promoted Content
Content Recommendations
Content Recommendations anonymously tracks visitor activity and builds profiles which can show Topic Clouds using Natural Language Processing (NLP) to identify content. The Topic performance can then be evaluated showing interest and abundance of the corresponding published content on your website. Great for identifying quickly and accurately which content and specific subjects are resonating with your target audience.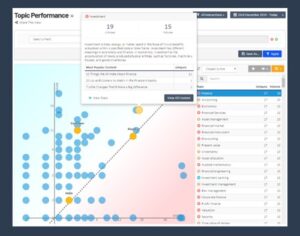 Product Recommendations
Master rules can be established to identify recommended products which can be served to the visitor. These have a setup widget and can cover a variety of factors. Exclusions can also be specified in these rules.
Email Recommendations
Both Product recommendations and content recommendations can be served up as emails as part of a campaign.
Triggered Messages
Triggered messages can be sent as part of a campaign for product recommendations and the specific triggers include:
Abandoned Checkout
Abandoned Basket
Abandoned browse
Targeted discounts
High product interest
Post purchase
Low-in-stock abandoned-basket
Optimizely Visitor Intelligence
As part of the Optimizely Digital Experience Platform (DXP). Visitor Intelligence is a user interface for viewing and filtering visitor profiles. Then creating customer segments that can be used on omnichannel marketing campaigns.
Visitor profiles can be of a variety of types, these might be: anonymous, identified, email or phone and they can be used to amass a variety of behavioural information. Marketers can then filter the profiles  to create marketing segments which can be used in campaigns.
Activity can be tracked as part of the amassed profile data, covering viewed products, paced orders, visited categories, shopping cart and homepage visits.
Episerver Ecommerce Cloud offers marketers a range of reporting facilities, these can be produced through the user interface.
Using Episerver Commerce to accelerate your business
For marketers, the Commerce Cloud is set to compliment your strategy and make creating and delivering your marketing activity an effortless process. However, the capabilities of Episerver Commerce for B2B and B2C organisatons goes way beyond marketing benefits.
We are Ultimedia, a digital agency, dedicated to creating sophisticated solutions to help brands achieve their goals using the Optimizely Platform. We've been helping global organisations since 1995 and are proud to be the UK's first Episerver Partner, giving our clients the assurance that when it comes to technical excellence, their project is in the best of hands.
Contact us today to book a demo or find out more about how Episerver Commerce Cloud can benefit your business.