Optimizely DXP vs Kentico
When it comes to selecting the right digital experience platform (DXP) for your organisation, there are several options to consider. Two prominent players in this space are Optimizely DXP and Kentico. Both platforms offer a wide range of features for creating and managing digital experiences and offer robust features and capabilities, but they have distinct strengths and weaknesses that make them suitable for different organisational needs.
What Differentiates Optimizely DXP And Kentico?
When looking for a new DXP, it's good to have an integrated ecosystem of software products making it easy to manage digital capabilities in one place. Kentico offers a wide range of pre-built modules and easy-to-use interfaces and is recognised for its well-rounded DXP features, including content management, online marketing, e-commerce, and customer experience management. Kentico's focus is primarily content management system (CMS), and organisations will often need to integrate additional solutions to get a complete DXP platform.
Alternatively, Optimizely DXP (formerly Episerver) provides a comprehensive set of tools for content management, personalisation, e-commerce, and analytics. With Optimizely, organisations get the opportunity to tailor their DXP product suite. Optimizely provides everything ambitious organisations need to create and manage digital experiences in one suite; from content management and commerce, to sophisticated personalisation and experimentation.
Industry Leaders Prioritise User Experience
Kentico offers a user-friendly interface, making it relatively easy for content editors and marketers to manage content and campaigns. It provides a substantial amount of marketing and e-commerce features, allowing for effective digital marketing strategies and online selling. Kentico's strength lies in its tools for content creation and management. However, some users may find Kentico's interface slightly less intuitive when compared to Optimizely DXP. The learning curve might be steeper for those without prior experience in similar platforms, potentially impacting initial user satisfaction.
Optimizely on the other hand is designed to be easy to use for both marketers and developers. The user interface is clean and there are a number of resources available to help you get started. Optimizely is renowned for its simple interface and user-friendly experience. Optimizely CMS creates a seamless editor experience with WYSIWYG capabilities, enabling users to easily create and manage content without requiring extensive technical knowledge. The platform also excels in personalisation, A/B testing and multivariate testing (MVT), allowing for targeted content delivery and optimised user journeys, ultimately enhancing the overall user experience.
Opportunities For Scaling Business
When evaluating the scalability of Optimizely DXP and Kentico, it's essential to consider the platforms' abilities to handle growing business needs, increased traffic, and expanding content and user bases. Kentico offers good scalability options, particularly with its Kentico Kontent headless CMS, which allows for flexible content management and delivery across various channels. The platform is designed to handle increasing content and users, Kentico is a traditional on-premises solution, which can be more difficult to develop and manage whilst also being expensive to scale. However, some users have noted that fine-tuning the scalability of Kentico requires a copious amount of developers effort and expertise especially for highly complex or rapidly expanding projects which hinders the opportunity for organisational growth.
Optimizely DXP is renowned for its strong versatility and scalability. Optimizely is built on a cloud-native architecture, which makes it easy to scale your platform up or down as needed. The platform can efficiently handle high-traffic websites and applications, making it suitable for enterprise-level organisations with complex requirements. Its cloud-based infrastructure allows for the platform to grow in tandem with an organisation's needs. This flexibility is crucial for businesses experiencing rapid growth or fluctuations in website traffic.
Ensuring Digital Security
Whilst comparing Optimizely DXP and Kentico in terms of security, it's vital to evaluate various aspects to ensure robust protection of sensitive data and reliable operations.
Kentico employs mechanisms to protect against common cyber threats. It offers features like authentication, access control, and secure coding practices to maintain the confidentiality and integrity of data. Regular updates and patches enhance the platform's security posture and address any identified vulnerabilities. However, Kentico is a self-hosted solution, which means that organisations are responsible for their own security.
Although Kentico does have a focus on security, Optimizely DXP is known for its strong emphasis on security. It has advanced security measures to safeguard data integrity and confidentiality. Optimizely utilises encryption protocols and ensures secure data transmission, reducing the risk of unauthorised access during communication. The platform regularly undergoes security audits and follows best practices to identify and mitigate potential vulnerabilities promptly. Optimizely DXP is built on top of the Microsoft Azure Platform and has a series of flexible hosting options to suit a variety of budgets and needs.
Optimizely DXP vs Kentico: Ecosystem
Optimizely DXP has a large and active ecosystem of partners and developers. This means that there are a wide range of extensions and integrations available, which can help ambitious organisations to customise and extend their platform. Kentico, on the other hand, has a smaller ecosystem, meaning there are fewer options available. Optimizely DXP excels in its ease of use and integration capabilities, allowing businesses to create and manage content efficiently while integrating with various third-party applications seamlessly.
Prioritising Customer support
Optimizely DXP and Kentico both aim to provide satisfactory assistance to their users, but they differ in their approaches and levels of support. It is prudent to consider the platform's reputation for customer support through user reviews and testimonials to ensure a well-rounded assessment.
Kentico offers various channels for assistance. Their support includes online documentation, online forums, and a customer portal. However, Kentico has been criticised for the lack of chat support available and its customer support solutions in general as they can be slow and unresponsive.
In contrast to Kentico's approach, Optimizely is recognised for its excellence in customer support, offering a range of options for users to seek assistance. They provide a dedicated support team, comprehensive documentation, knowledge base articles, and community forums. Users often commend the responsiveness and expertise of Optimizely's support staff, enabling quick issue resolution and effective guidance for leveraging the platform effectively. The team is always willing to go the extra mile to help their customers.
Who Uses Optimizely DXP vs Kentico?
Optimizely DXP is used by some of the biggest organisations in the world, including eBay, Samsung, and Spotify. This is a testament to the quality and reliability of the platform. Kentico, on the other hand, is used by a smaller number of brands, and it is not as well established as Optimizely.
Optimizely case studies: businesses that have benefited from switching their DXP:
eBay: eBay switched to Optimizely in order to improve its customer experience and increase sales. As a result, eBay has seen a 10% increase in conversion rates and a 15% increase in revenue.
Samsung: Samsung switched to Optimizely DXP to create more personalised digital experiences for its customers. As a result, Samsung has seen a 20% increase in click-through rates and a 15% increase in engagement.
Spotify: Spotify switched to Optimizely DXP in order to improve its recommendation engine and deliver more relevant content to its users. As a result, Spotify has seen a 30% increase in click-through rates and a 10% increase in user engagement.
How Much Do They Cost?
Both Optimizely DXP and Kentico take different pricing approaches.
At a glance it seems as if Kentico is a more budget-friendly option for smaller organisations. Kentico's modular approach to pricing allows users to tailor their package to suit their specific needs and budget. However, if you are an ambitious organisation wanting to integrate additional solutions such as experimentation features, the Kentico pricing model can get quite expensive for the products available.
Optimizely DXP typically positions itself as a premium solution, offering a feature-rich platform for digital experience optimisation. Optimizely pricing is benchmarked against the calibre of the technology and the valuable opportunities it can drive for ambitious organisations and overall ROI. Additionally, the cost of Optimizely can also be customised based on the specific features required by an organisation. DXP's pricing also has many underlying aspects such as the opportunity for scalability, required features, ongoing support costs, and the overall potential return on investment.
DXP's And The Future
Optimizely DXP and Kentico are both innovating and upgrading aspects of their software.
Kentico being the smaller of the two platforms currently has a moderately slow release cycle of updates, and new features are not always added promptly.
On the contrary, Optimizely is an industry leading DXP, and it is constantly investing in new features and functionality. Technologies such as Optimizely AI demonstrate how Optimizely has a priority to innovate and stay ahead of competitors.
Additionally, the Gartner DXP Magic Quadrant shows how Optimizely are visionary leaders whilst Kentico are lagging behind.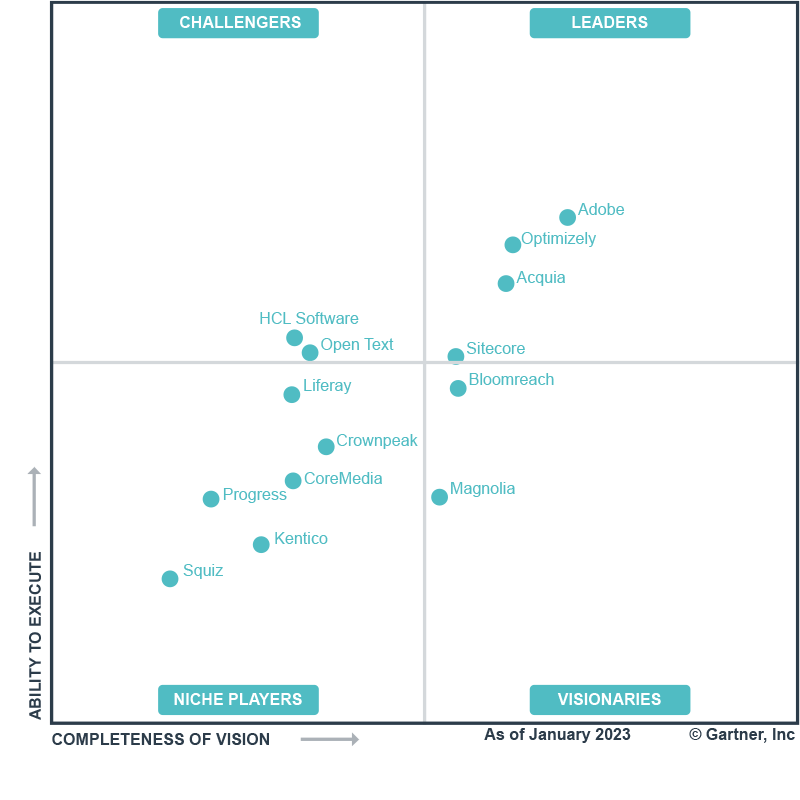 Which platform is best for your organisation?
When considering which platform is best suited to your organisation, all the factors above should be considered. Kentico's focus is on content management whereas Optimizely DXP offers so much more. It provides customers with more functionality and is highly regarded by Gartner for its ability to influence digital activities. Optimizely delivers an improved return on investment, according to Forrester.
If you would like to start your journey using Optimizely, a leading DXP, then contact us today. At Ultimedia we have a range of experts and over 10 years of Optimizely DXP experience. We would love to help your organisation elevate its digital performance and achieve exceptional results. Book a demo today to see firsthand how Optimizely could benefit your organisation.