Opticon 2022 – Introducing the new Optimizely
The last time Optimizely held an in-person global annual conference was 2019. To quote Optimizely CEO Alexander Atzberger, "A lot has changed in the last 3 years".
Optimizely has been busy building on its CMS and E-commerce heritage to become one of the best and most progressive Digital Experience Platforms on the planet. Gartner and Forrester think they are the leaders too.
Opticon 2022, held in San Diego, California saw Optimizely take stock of its achievements and rationalise its new product, proposition and promise to a packed international audience.
In the current market, where building your ultimate DXP with a multi-vendor ecosystem can be expensive and difficult to manage, Optimizely now boasts an ecosystem that ticks many of the boxes on a CMOs shopping list:
Like many of its peers, Optimizely is trying to answer the ever-growing challenge facing marketers (and perhaps CEOs). It must provide the most comprehensive suite of tools to create the ultimate connected customer experience and empower a multi-disciplined team from content to commerce.
In building out the Optimizely portfolio, they have acquired some 'best of breed' solutions and have been working hard to create a more integrated and intuitive suite of products. There has been some inevitable rationalisation where features overlapped and re-naming along the way so now Optimizely sets out its stall in 3 clear pillars: Orchestrate, Monetize and Experiment.
With the following, Optimizely enables boundless digital invention and a radically new way to create digital experiences.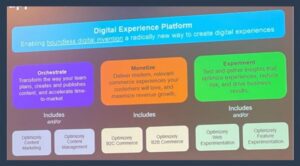 Orchestrate Optimizely B2C Commerce
Two platforms sit at the core of the platform and transform the way your team plans, creates and publishes content and accelerates time-to-market.
Incorporating Optimizely Content Marketing (formerly Welcome) and Optimizely Content Management (formerly Episerver and Content Cloud)
Work smarter with data-driven content recommendations
Execute faster with easy-to-use editors and collaboration workflows
Access digital assets with fully-integrated libraries and file-pickers
Monetize
Deliver modern, relevant commerce experiences your customers will love and maximise revenue growth.
Incorporating Optimizely B2C Commerce (formerly Commerce Cloud) and Optimizely B2B Commerce. Two class-leading commerce platforms with features to suit either or both B2C and B2B scenarios.
Minimise the complexity of your commerce stack
Build customer experiences that drive lifetime value
Enable your sales team from day one
Experiment
Test and gather insights that optimise experiences, reduce risk and drive business results.
Incorporating Optimizely Web Experimentation and Optimizely Feature Experimentation (formerly Full Stack).
Deploy, release and control code better and faster
Controlled rollouts of all features to targeted audiences
Experiment with confidence to achieve and exceed KPIs
Knowledge is power and Optimizely gives you both 
Through its powerful Customer Data Platform integrated across all products in the portfolio, you can analyse and Surface insights to inform every phase of the process. Not only can you
The true power comes by being able to act on this intelligence and that's where Optimizely has the answers. The cross-platform tool set from a single vendor enables you to deliver personalised experiences that deliver ROI at scale like no other platform.
One-click integrations and extensible platform
Real-time profiles and segmentation-driven reporting
Out-of-the-box data science and personalisation at scale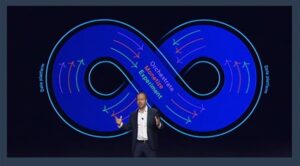 Staying ahead of the pack
To remain a world-class SaaS vendor your work is never done. Optimizely still has plenty more to deliver and set out its roadmap themes for the coming year:
Performance
Slow website page speed is still the number one reason for a poor digital experience. Optimizely continues to refine the underlying technology to ensure their platform continues to leave the others behind.
Harmony
They will continue to evolve cross-product harmonisation and integration to deliver a seamless user experience.
Ecosystem
Optimizely looks to extend its partnerships and integrations with other defacto best-of-breed SaaS vendors in the market such as Google and Salesforce.
Intelligence
Building on its strategic partnership with Google, Optimizely will continue to develop more advanced machine learning and artificial intelligence across more of the portfolio.
Data
With many product acquisitions came numerous databases, duplication of data and inconsistent data structure. Optimizely will be rationalising this under-the-hood data that underpins all the products to create an even better foundation for the future.
Collaboration
DXPs, when used at scale, require multiple stakeholders to be empowered to work together efficiently and productively. From the simplest content edit to a multi-channel optimisation campaign, Optimizely aims to provide the tools you need to work together without resorting to the all too often home-grown email, chat and spreadsheets.
In summary, Opticon 2022 had so much to offer for the marketers and techies alike. A mature and accomplished performance to rival its competitors, It felt like Optimizely had come of age and was no longer the unknown disruptor but now the challenger brand standing tall and leading the way.
Get Started With Optimizely
To learn more about what Optimizely does or to discuss Optimizely pricing for your organisation, get in touch with our certified experts at Ultimedia. We're the UK's number one Optimizely Partner and have been helping ambitious global brands to unlock their digital potential for over 25 years. Contact us today to get started.