Optimizely vs Shopify – What's the difference?
Shopify is used by only 2% of the top one million e-commerce sites in the United Kingdom (Ranked by traffic volume). When looking at the websites that receive the highest volume of traffic in the UK, only 399 of the top 10,000 sites are built on Shopify. This is often due to the technical limitations of the platform.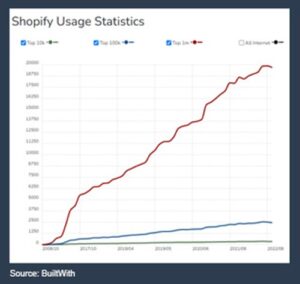 The most distinguishable difference between Optimizely and Shopify is the power and capabilities that the platforms offer. Optimizely caters for enterprise-level organisations such as INDISKA and Fjällräven. The correct platform selection allows organisations to feel confident in their website's capabilities with a much lower chance of crashing or slowing down due to the number of active users, pages or assets live, preventing any limitations to marketing teams' plans.
Shopify is used by businesses and brands of all sizes but is most commonly used by smaller ecommerce sites that are restricted by lower budgets, but this comes with its downsides. Ambitious organisations may risk missing out on the products needed to reach their potential. From the lack of market-leading and innovative technology access, large companies on sites made for small budgets can hit digital stagnation and need to invest further with add-ons or a new transformation.
Optimizely vs Shopify – Usability and Value
With the 'Optimizely Monetize' section in the DXP, both B2B and B2C commerce customers are able to create the ideal solution that matches their ambitions.
With Optimizely B2C Commerce – Organisations are able to:
Personalise users' experience with automated product recommendations based on machine learning technology.
Personalisation based on users previous time on site and location.
Gain individualised search engine rankings that drive organic traffic.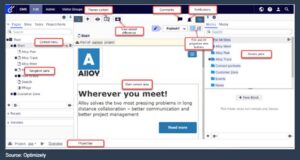 sThe B2B side allows organisations to make a business friendly commerce solution with:
Data-driven recommendations.
One-of-one unique content for users.
Tools to create built-in workflows that aid in driving revenue.
Within the same Optimizely interface, multiple people can manage, create, edit and publish content via 'CMS edit', keeping the quality of the site's material at the highest level possible. Within the same portal users can access the 'Commerce editor' to edit, maintain and make changes to product pages where needed to create the best digital shopping experience for its customers.
A big benefit of using Shopify is that it requires less commitment and budget, however, this is reflected in the level of sophistication in the platform and its tools. Ambitious brands may need to account for further investment to bolster capabilities that aren't available or simply migrate to a top-tier platform that can scale with their growth.
Shopify requires a third-party CMS to perform at a level that is considered competitive by market-leading technologies. This adds overheads and requires additional training on the new software, using up valuable time that could be spent on creating and maintaining content.
Sites built with Optimizely have the ability to be search optimised and increase the visibility of all products. The creative capabilities of the Optimizely platform alongside the impressive robust technical is the quintessential next step in taking your customer-centric organisations to the next level.
Overall, for usability, both platforms are accessible and not particularly difficult to navigate, but customers very much get what they pay for in terms of value. Learn more about Optimizely pricing.
Optimizely vs Shopify – A/B Testing
Large organisations on Shopify can take advantage of Optimizely A/B testing with the Shopify-specific application. Marketing teams gain access to a seven-day free trial before a paid monthly subscription to access a savvy form of experimentation that accesses a deeper knowledge and understanding of their consumers. The downside to the technology is that the application requires a large amount of traffic to pass the seven-day trial period. Naturally, this is a benefit to businesses that don't qualify for the technology, preventing additional overheads that won't bring an effective return.
Optimizely Commerce users are able to run experimentation testing and track data within the solution without the need for any third-party implementations. Analysts are able to track the best-performing content and products from the likes of experimentation marketing to discover what is consumed the best.
Shopify users get access to A/B testing features made by the technology for experimentation testing on sites at a premium cost. Through research, it is clear to see that many customers rely on additional software from experiment marketing specialist technologies that come at a reduced cost and have a much higher potential.
When it comes to A/B and multivariate testing, not many technologies can compete at the standard that Optimizely sets. For this reason, if you're a marketer looking to create premium content experiences that convert – Optimizely is the stronger choice.
Optimizely vs Shopify – Analytical tools
Optimizely Analytics is a very broad term that can be applied to many different products and integrations. Marketers are able to track and view the performance of both B2C and B2B commerce sites using Optimizely Data Core Service. This channel harmonises data for users to learn things such as the best channel to contact the customer and what day of the week they are more likely to get the more positive response on.
Alongside the Optimizely brand products, the DXP can integrate with third-party analytical tools such as Google Analytics 4 and Google Optimize. Users are able to both have a safety net in a familiar platform whilst getting familiar with the new tech. This allows for users to then compare data from multiple sources and create a stronger sense of confidence in what has been recorded.
Shopify customers gain basic analytical monitoring features at the cheapest package with the ability to choose between five different priced bundles. The downside to this is that additional price points come with extra features that may be unwanted and not contribute to a positive return.
Optimizely vs Shopify – Apps and Integrations
Optimizely has a library full of apps and integrations available to browse before the investment. Due to Optimizely's infrastructure, there are no big hindrances in site performance when using one application or twenty, whereas on other platforms users are able to feel the negative effect when navigating the site when multiple plugins and integrations are active.
Including the ability to refine/filter the lists to make the finding of their desired software quicker and easier. The refinements include
Category – from payment, fraud and tax to SEO, reliability and accessibility there are applications to further bolster the software and technology available.
Cost – Free, Trial or Paid. Users are able to experiment and implement tech that matches their budget.
Products – Which product in the Optimizely Suite the user uses, Optimizely B2C and B2B, Optimizely CMS, etc.
Optimizely Partner
How effective is your current ecommerce solution? To book a consultation or website performance audit,  contact us, our team of accredited experts would love to help. We are Ultimedia, the #1 Optimizely partner in the UK and the Middle East. We are digital transformation experts with over 25 years of experience in helping brands to unlock their digital potential.