Create engaging digital experiences with the UK's #1 Episerver Implementation Partner.
We're Ultimedia, the UK's first Episerver Implementation Partner (now Optimizely). Our team of accredited technical architects, strategists and digital marketers have been combining our knowledge and experience to help enterprise-level organisations to achieve their digital goals since 1995. Our expertise spans the full Episerver DXC products and services offering and ensures our clients are always getting the best from their investment.
Get better results with an Episerver Implementation Partner
The Episerver Digital Experience Platform has been commended for digital excellence year-on-year in the Gartner Magic Quadrant. Named as an industry leader in the report and moving consistently on an upwards trend, Episerver is a great choice for ambitious brands that are looking for the highest calibre of technology to enhance their performance.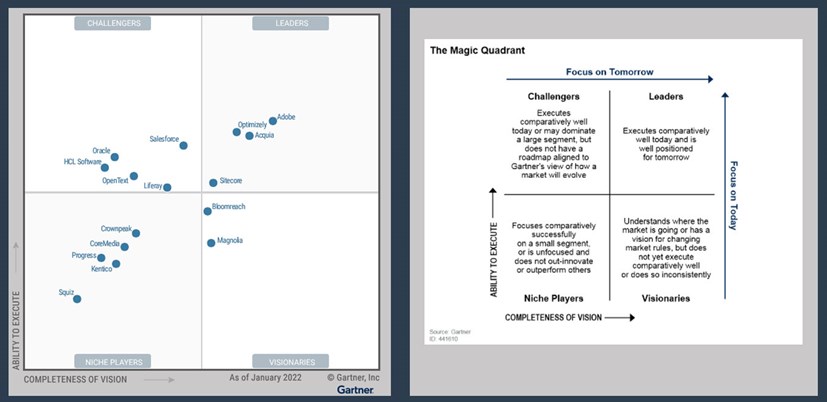 Why choose an accredited Episerver Implementation Partner?
Access to the world's leading technology
As a top-tier Episerver Implementation Partner, we are first in-line to access the latest technology advancements with the platform and hold close relationships with Episerver. This means that our clients benefit from that knowledge as we use it to create premium solutions for their organisation.
A team of dedicated Episerver specialists
We are proud to have certified Episerver developers that have decades of combined experience with the platform and are always adding to their skillset as new products and updates are released. They know Episerver/Optimizely inside out, ensuring that our clients get the best implementations that will generate great ROI, and avoid the mistakes that less qualified teams make that can lead to costly fixes in the future.
Acceleration and Growth
Having our heritage in Episerver, we have a long list of case studies where we have helped ambitious organisations to grow and accelerate their digital transformation using smart solutions that leverage key aspects of the Episerver platform.
Strategic Partnership
Episerver is a sophisticated platform that boasts an ever evolving portfolio of of tools and features to help brands deliver an effective customer-centric digital strategy. Working with an experienced Episerver Implementation Partner gives our clients the advantage of maximising their DXP investment at a strategic level, for peak ROI.
Why choose Ultimedia as your Episerver Implementation Partner?
We have extensive experience with Episerver and work exclusively with the platform, making us one of the few specialist partners in the UK. Our team has the skills required to deliver the most effective implementations and we don't stop at deployment. We understand the value of ongoing support and digital marketing tactics to continue maximising investment which is why we offer these services to our clients too.
The best way is to talk to us, discuss your requirements and discover how we can help your organisation go further, digitally. Contact us today to have a chat about how Episerver could benefit your organisation.