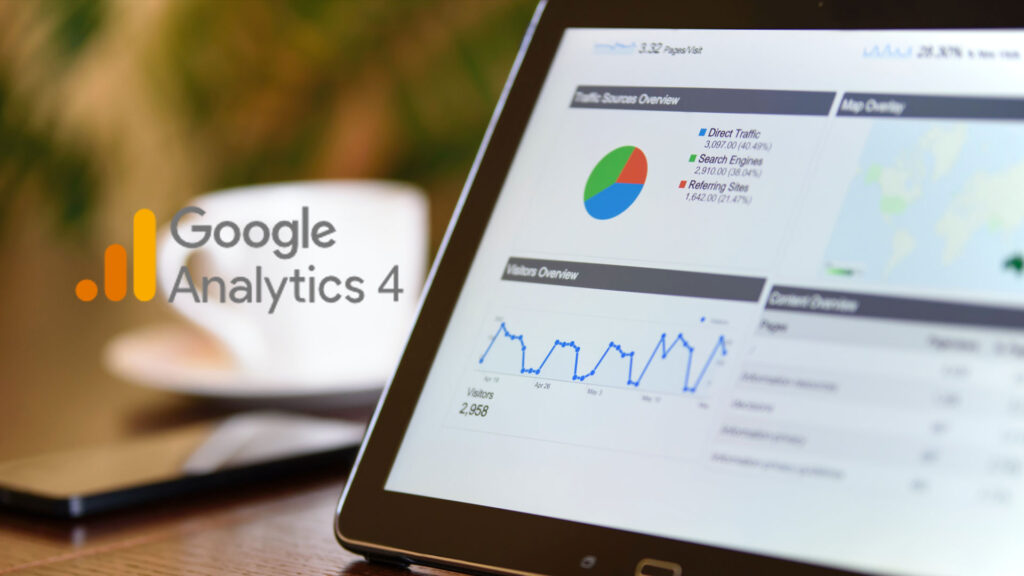 In July 2023 marketers will say goodbye to their current Universal Analytics set up and will have to upgrade to Google Analytics 4 (GA4). That might seem like a problem to worry about next year – wrong.
Failing to install Google Analytics 4 alongside your existing Universal Analytics set up risks leaving your organisation with embarrassing and important gaps in year on year data, which is why it's critical for savvy marketers to act now.
This new version evolves measurement standards and provides intuitive advancements that allow organisations to see unified user journeys across all digital touch points. It harnesses machine learning to predict new insights and is designed for the future of digital.
Should organisations upgrade now? Yes.
Savvy digital marketers understand how valuable data is in creating meaningful marketing decisions that lead to great customer experiences. Running Google Analytics 4 alongside Universal Analytics until the switch over puts organisations is the strongest position to make informed decisions in the future.
Marketers that are slow to act before July 2022 are likely to come up against the following challenges:
The inability to quickly compare results year on year
Discrepancies in data that require explanation to stakeholders across the organisation
Missed tracking opportunities such as goals, events and ecommerce tracking
Lost data sharing opportunities between Google Analytics, Google Ads, Google Search Console and other Google tools.
However, proactive organisations that are data-driven will make the necessary changes ahead of July 2022 to benefit from the following:
Accurate year on year comparisons of data, which will be a breeze as they'll have 12 months of legacy data using the new tool.
Any data discrepancies will be spotted and dealt with long before the deadline. This means no awkward discussions with stakeholders about digital marketing success.
Their organisation will be reassured that all Google tools are working correctly, important events are tracked and that there will be no embarrassing gaps in reporting.
We're offering enterprise level organisations a Google Analytics Upgrade and Health Check
In this we will:
Upgrade your current Google Analytics to ensure accurate tracking and performance
Check and fix existing problems

Common Google Analytics problems:
Organisations that fail to set up their Google Analytics effectively miss out on getting the best results from their digital investments and moreover, valuable insight to how their website performs and how their visitors engage. Common Google Analytics problems include:
Not tracking 'Site Search'
By failing to track site search queries, your organisation risks missing out on insight into the search intent of their visitors which could be used to determine future activity.
Not tracking 'Scroll Depth'
Understanding how your audience navigates and engages with your site and its content gives you important insight into how to improve UX and CRO to generate profitable business opportunities.
Not tracking 'Events'
This is essential for results driven marketers. Monitoring conversions like PDF downloads is key to lead generation and reporting on ROI.
Not tracking 'Goals'
Similar to missing out on event tracking, goal conversion tracking for form submissions or other vital engagements could mean missing out on potential new business or nurture opportunities.
Other common Google Analytics problems include:
Ecommerce Tracking Errors

E.g., sales / conversions
Sales funnel visualisation
Checkout visualisation

Not filtering out internal users
Not tracking email marketing with custom campaign tracking
Not using views to look at data segments
Cross Domain Tracking Errors

Or sub domains of the same site

Issues with linking to Google Ads

ROI tracking
Conversion tracking
Not using Remarketing lists
Editing or filtering the 'All Website Data' view

Always keep raw data intact
Not filtering out duplicate URLs
User permissions
Ownership

Owned by a third-party agency or a member of staff's personal email
Errors with Google Tag Manager
Issues with linking to Google Search Console

Not Linked
Linked to wrong profile (http) (https) (www) (not www)
Is your Google Analytics set up correctly?
The new Google Analytics 4 (GA4) is on the horizon for July 2023, but ensuring that your organisation's current Universal version is set up to give you accurate data to help get the most from your website until then is paramount. If you've invested in a Digital Experience Platform like Optimizely or Sitecore already, then it's paramount that your tracking is set up correctly to maximise marketing performance and ROI.
We're offering digitally ambitious, enterprise-level organisations a Google Analytics Upgrade and Health Check to make sure that they are all set to capture vital data on their audience and website performance to enable Year-on-Year comparisons for when Google Analytics 4 replaces Universal Analytics.
The new update is structured differently to the existing Universal model, focussing on events and standalone user interactions rather than sessions. This will be particularly useful for marketers that would benefit from enhanced cross-platform analysis. Talk to us to learn more about getting started with Google Analytics 4.
We are Ultimedia, a certified Google Partner agency with a team of accredited Google Analytics experts. We have been working with enterprise-level businesses since 1995 in the design, build and optimisation of their websites and specialise in the Optimizely platform.
Having decades of experience with industry-leading .NET technology, we're in a unique position to help businesses on platforms such as Optimizely (Episerver) and Sitecore to maximise their digital marketing performance through our combined knowledge of Digital Experience Platforms and Google Analytics.
Contact us today to learn more and discuss how we can help with your Google Analytics set-up.