How digitally effective are the world's top 100 law firms?
The pandemic has accelerated digital transformation in law firms. Lockdowns through 2020 and 2021 highlighted quickly which sectors and specific organisations were out of touch and desperately needed to kickstart their digital transformation activity.
Over half of law firms reported increasing their use of technology since 2020. As technology and digital channels continue to innovate, the legal sector must adjust how they do business and approach marketing.
There's a great appetite for legal knowledge via online channels from prospective and existing clients. Modern firms need to match modern audience's expectations and be visible, accessible and active digitally.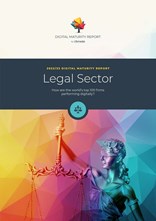 The 2022/23 Digital Maturity Report for the Legal Sector includes research and analysis of the digital performance of the world's top 100 law firms. The report covers 10 key aspects of digital including:
Website Effectiveness
Content Marketing
Search Marketing (SEO)
Social Media
Personalisation
In addition to the 10 core tested areas, we reveal the relationships between the website platform used and digital performance. We've identified the legal firms getting it right, and those who are failing to embrace this exciting opportunity. The report includes useful insights into the legal sector and suggestions for any law firm to improve their digital strategy and get more from their current investment.
Inside the report:
The Digital Maturity Results League Table
Comparative analysis of the 10 core aspects required for digital success
Additional insights and statistics to highlight digital change
Suggestions for improvement and implementing best practice
Access to further detailed 'firm specific data' for the top 100 referenced in the report
And more…
This Digital Maturity Report has been created by Ultimedia.